We have a winner!
ISRRT DoseWise Radiographer of the Year – 2017
Mr Sanghun Kim, Radiological Technologist at the Samsung Medical Center in Seoul, South Korea, is our winner.
His case demonstrates a unique perspective on using existing technology but in a different manner, that satisfied clinical objectives, and resulted in efficient control over patient and operators radiation dosage. His study also demonstrated innovative methods for carrying out the study, identifying the target population for the modified technique, and clearly presented the limitations – all necessary elements of a well-executed study.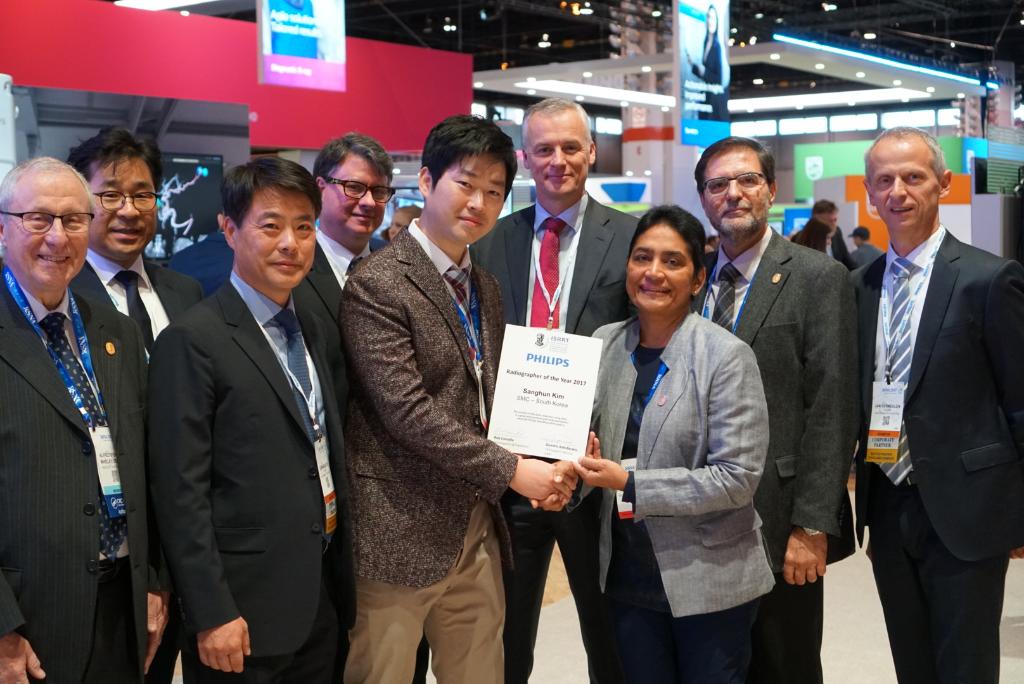 Mr Sanghun Kim, Radiological Technologist at the Samsung Medical Center receiving award at RSNA 2017.
Read his case
We received many exceptional cases that represent some of the best dose management practices around the world. Thank you for your contribution to this endeavor.
Visit our radiation dose management knowledge center to read the cases submitted by the participants and access other sources of insights into dose management, radiation protection, staff & patient safety and other relevant topics.
Visit knowledge center
The date for case submission has past - this year's contest is now closed. Next year we will again pursue a ISRRT DoseWise Radiographer of the Year for 2018. We hope you will consider participating.
You hold the knowledge… share it
Every radiographer is concerned about dose management. You are leading the way with innovative protocols and procedures that stand as an example of forward thinking.
To recognize the ongoing efforts of radiographers and to promote radiation dose management awareness around the world, Philips DoseWise and ISRRT host the annual "Radiographer of the Year" contest.
This contest offers an opportunity for you to present best practices and share critical knowledge with your peers. Choose your very best case and submit if for entry into the Radiographer of the Year contest 2017.
Participate now!
Your entry will be judged by a panel of experts from ISRRT. One winning case will be selected and that radiographer will be sponsored to attend and share their case at RSNA 2017.
What is Philips DoseWise?
DoseWise is a Philips radiology philosophy consisting of educational tools, protocols, software, and hardware and is part of our ALARA thinking.
Learn how DoseWise can help you develop ever more efficient protocols